Marketing resources
General guidelines
- In the POP display please use verbiage from standard-box-back.jpg
Track, schedule, and report on your production.

Import scripts from Final Draft
Automatic Call Sheets
Accurate Day-Out-Of-Days Reporting
Shooting Schedules
Cast & Location Reports
Explore "what if?" scenarios
Export to Excel, Word, PDF, or HTML
www.filmscheduling.com


- When making POP and other graphics, please avoid including entire faces of cast or crew. We have signed release forms to use their images but from a design perspective it would be better in my opinion to focus on hands, arms, etc.
- Color scheme is metal with orange and green highlights (see CD imagery and box shot front for examples)
- Use Abadi MT Condensed Extra Bold for the logo and Abadi MT Condensed for verbiage
Text logo
SUNFROG
FILM
SCHEDULING
Abadi MT Condensed Extra Bold, all caps. (If the logo above appears in a regular font on your machine that probably means the Abadi MT font isn't installed on it)
Data CD Master
A zip file containing the files on the CD is here:
CD_Master_1612b.zip (26meg)
The volume label should be "Sunfrog_1612b".
Download and uncompress the zip file. Burn the files onto the CD. (Put the unzipped files onto the CD, not just the zip file itself, of course).
Test the master by putting it into the CD drive of any Windows PC, it should auto-launch the Sunfrog Installation program.
Data CD Label
sfs_cd-4.PSD
sfs_cd-5-flat.PSD
sunfrog-cd-1612.pub (MS publisher)
Jewel Case Insert Card and Tray Card
NOTE: hide guide layer in PSD files before printing
Insert card is 121x120mm
sunfrog-121x120mm-card-3.PSD
sunfrog-121x120mm-card-3-flat.PSD

Tray card is 150x118mm
150x118-traycard-9.PSD
150x118-traycard-9-flat.PSD



Sunfrog Box

standard-box-front.jpg
standard-box-back.jpg (graphics are a little simple, please use verbiage though)
See more box shots at the bottom of Sunfrog Film Scheduling - Resources
Sunfrog Postcards


Photos used in making photoshop files
In the photoshop files above I used these photos w/ poster edges filter and gradients.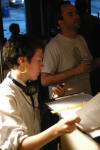 There are more images at:
http://www.fu.org/rob/galleries/chef/people/

http://www.fu.org/rob/galleries/chef/documentary
There is a 90meg zip file of all the photos at
http://www.fu.org/rob/galleries/chef/chef.zip
Frog


frog-1.PSD
frog-12.PSD
frog64x64.bmp
Other files
These are banners used during install, might be helpful for POP display:
install-A.PSD install-M.PSD install-P.psd install-R.psd install-S.psd